Selling your home? Add value to your home by choosing the right paint color
Could the color of paint used in your home really affect the value? Zillow Analysis set out to answer this very question. They analyzed over 135 thousand photos of homes sold throughout the country. Their findings showed that by incorporating just four colors into the home could increase a home's value by $13,000. Interestingly, they also discovered three colors that decreased a home's value by $7,000.
This topic is considered fairly subjective, as preferences can vary between generations and geography. However, understanding current trends is important when deciding on what improvements to make. If you plan on sprucing up the home before it hits the market, take into consideration adding the following colors to your home.
Take a look at the following colors and how much they increased a home's value
Black (charcoal) front doors add $6,300 in value
Sherwin-Williams Tricorn Black
Light blue (with a blue-gray tint) bathroom adds $2,700 in value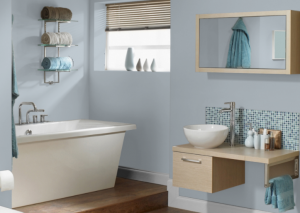 Sherwin-Williams Upward
Light taupe living room adds $2,700 in value
Sherwin-Williams Alabaster
Tuxedo cabinets in kitchen (white or light colored upper cabinets with dark navy or black lower cabinets) adds $1,500 value
Zillow also concluded that specific colors reduced a home's value. These paint colors decreased a home's value by as much as $7,000.
A home with a yellow exterior decreased by $3,400
A brown (oat brown to sandy brown) dining room decreased by $1,600
A brick or barn red to a lighter raspberry red decreased by $2,300
Painting the front door or bathroom is an inexpensive project that could make a big impact with potential home buyers. This minor improvement could help increase your home's value and should be something to consider when preparing your home for sale.
fsboHandshake saves For Sale By Owner (FSBO) home sellers thousands